View our 14 day availability schedule to see who has accommodation available for your stay.
View the current specials and promotions in Plettenberg Bay
View Specials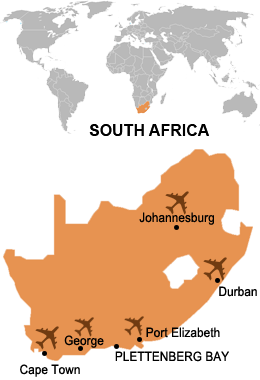 All of our Plettenberg Bay skydiving experiences are guaranteed to send your heart racing and get your adrenaline pumping! We'll send you soaring high above the Plettenberg Bay landscape in an airplane flown by a highly experienced pilot. Are you ready to take the plunge? If so, we'll set you up with an exciting Plettenberg Bay Skydive today! Why Plettenberg Bay to Skydive?

Did you know….TripAdvisor recognised Plettenberg Bay as the number three most popular Beach & Sun Destination in Africa for 2011. TripAdvisor aslso scored Plettenberg Bay as the 8th most popular Outdoor & Adventure Destinations in Africa for 2011.

The Adventure Travel Awards voted Plettenberg Bay as one of the Top 10 Sky Diving Destinations in the world! Why not check it out for yourself and pay us a visit?