They say…that if you find a pansy shell in Plett, you will always return to the bay and that you don't find the Pansy shell, the Pansy shell finds you.
It's fragile, delicate and nearly impossible to find, but there is something magical about searching for and finding a pansy shell in Plettenberg Bay. But what would a trip to Plett be without going hunting for a Pansy Shell? Popular choices of beach are Lookout Beach, Keurboomsstrand and Robberg where many lucky visitors have found their own Pansy shell. It's best to go down to the beach at low tide or spring low tide and wade through ankle to shin deep water – keep a lookout, that little sliver of white shell might just be a Pansy shell!

It's interesting to note that Pansy shells are living organisms with a rigid and flattened disk shaped shell. When the pansy shell is alive they are a purplish blue in colour and the body is covered with fine short spines resembling fur, not unlike the porcupine needles of the related Sea Urchin. These spines allow them to move across the seabed. When washed ashore, pansy shells are distinguishable as a flat white disc with the pattern of a flower with five petals embossed on the surface. They lose their purple velvet-like skin and are white in colour through bleaching from the sun and seawater. They are very delicate shells and finding a whole and perfect pansy shell is becoming rarer. Other names for pansy shells are sand dollar, sand cake, sea cookie and cake urchin to name a few. In South Africa, they are known as pansy shells due to the pattern of the five petaled garden flower. Although pansy shells have few natural predators they are protected and no live pansy shells should be removed from their natural habitat.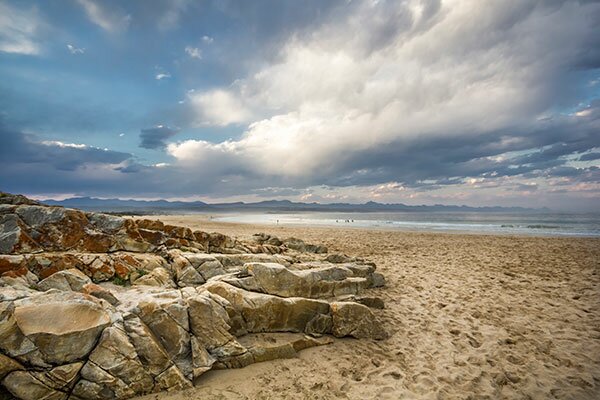 We think that to find a Pansy shell is to take a bit of Plett home with you, but even if you don't find the shell, we know Plettenberg Bay will stay in your heart long after you've left!
Visit plettenbergbayinfo.co.za to book your Plett holiday accommodation