Dreaming of pristine, unspoilt sandy beaches?
Plettenberg Bay boasts some of the most beautiful beaches in South Africa. The town's 20 kilometres of picturesque Indian Ocean coastline features pristine, unspoilt sandy beaches. Throughout the year, you'll find beachgoers of all ages soaking up the sun and enjoying the many outdoor activities you'll find in Plettenberg Bay.
Lounging in the soft, warm sand is only the beginning. Surfing, skimboarding and bodyboarding are popular among locals and visitors. With up to 12-foot waves, the beaches along Plettenberg Bay's coastline are home to some of the best waves in South Africa. Have a surfing lesson, visit during the "Wedge Bodyboard Classic" or even try your hand at one of our many sea adventure races. You may also want to cast a line or charter a fishing expidition and try your luck along the coast of Plettenberg Bay.
Exploring the underwater world is fun and exciting in Plettenberg Bay, which is home to fish, stingrays, dolphin, seals, sharks and whales – even the occasional octopus!
But you don't have to dive to experience the amazing marine life hidden just below the waves. Plettenberg Bay boasts several impressive ocean safaris, giving you an up-close look at marine life without having to get your hair wet!
There are several different type of beaches open to the public in Plett. There are lagoon areas for young children and there are hot surfing and bodyboarding spots for the more adventurous. Plett has 6 premier, internationally recognised "Blue Flag" status beaches; including Robberg 5, Lookout Beach, Keurboomstrand, The Dunes, The Singing Kettle and Nature's Valley.
While you explore nature in all its glory, please help us keep these beaches beautiful for years to come! Most of Plettenberg Bay's beaches and lagoons are designated "Marine Protected Areas," so remember:
Deposit all litter in appropriate containers.
Stay on designated trails. Prevent erosion and preserve plant and animal habitats.
Pets are not allowed on most beaches. There are designated areas for pets.
With such an amazing variety of things to do and ways to relax at the beach, it's easy to see why Plettenberg Bay is a prime dream holiday destination for visitors from around the world.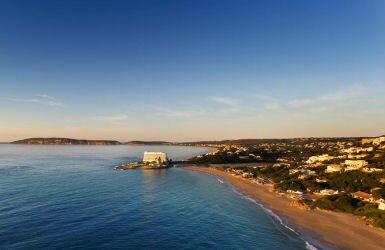 Often the busiest beach in Plett. Life guards on duty in season. It's the launch site for Marine Safaris, dive charters and ocean kayaking tours and facilities include restaurants, bars, public toilets and the local National Sea Rescue Station; 2 km / 2 minutes from Plett Central.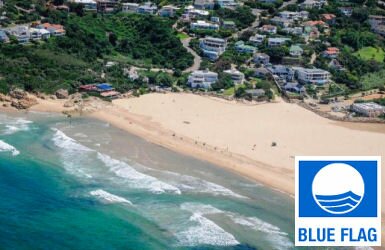 Lookout Beach – Blue Flag Status
Formerly Plett's most iconic beach, this area wash washed away during the 2007 floods but has returned even more pristine within the past three years. This is now popular for long walks along the ocean side. This has also become a fantastic sun bathing spot, great for surfing and bodyboarding and has ample play areas.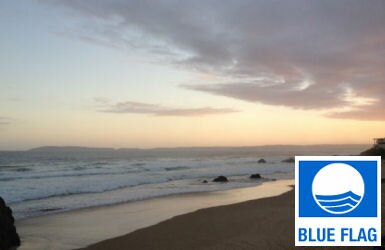 Keurboomstrand Beach – Blue Flag Status
A little wilder, but equally beautiful. Life guards on duty in season. Facilities include a restaurant (2 km / 2 minutes), public toilets, wheelchair access and ample parking; 10 km / 15 minutes from Plett Central.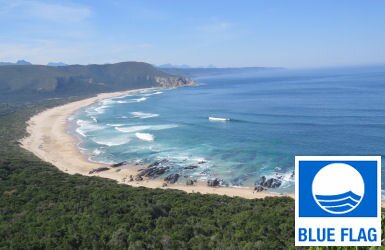 Nature's Valley Beach – Blue Flag Status
Nestled between two national parks, this large expanse of beach is in walking distance of the pristine Salt River Mouth. This is birdwatchers paradise! Life guards on duty in season. Facilities include a restaurant, public toilets, wheelchair access and parking; 25 km / 30 minutes from Plett Central.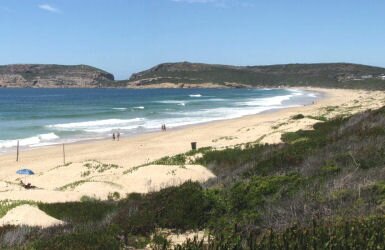 Popular for long – long – walks, Robberg Beach stretches for kilometres between the Robberg Peninsula and Beacon Island. Facilities include public toilets and various parking areas; 2 km / 2 Minutes from Plett Central.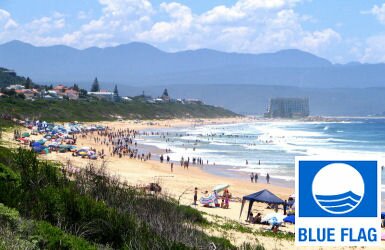 Robberg 5 Beach – Blue Flag Status
Located in the central area of Robberg Beach, this beach is popular for surfing and bodyboarding. Facilities include wheelchair access, public toilets and a parking area; 2 km / 2 minutes from Plett Central.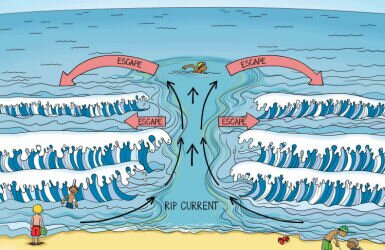 Breaking the grip of the Rip
Rip currents can develop anywhere where there are breaking waves. These rivers of current are made by water draining from the beach and flowing back out to sea. Ranging in width from just a few metres to a hundred metres or so, they can flow faster than we can swim.