Plett offers incredible birding opportunities in a beautiful natural setting. With a temperate climate, birding enthusiasts can view year-round. Plett is home to a diverse range of different habitat zones and microclimates conducive to wintering and breeding birds. As a result, this area has excellent viewing with more than 350 recorded bird species to provide an outstanding birding experience.
Site-Specific Land Art and the town of Plett have formed a partnership for the construction of unique, environmentally friendly bird hides. The projects will feature local and international artist's constructed bird hides. They will only be using natural materials and will provide employment and training for local community members.
Come explore this extraordinary landscape. Plett, bordered to the east by the warm Indian Ocean and Tsitsikamma Mountains and the west by indigenous forests, is in the heart of the Garden Route providing a heaven South African bird species, and occasionally visitors needing a place to rest.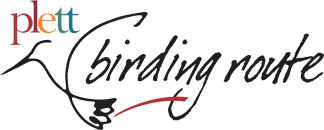 Birding in Plett – What do we have?

19 Endemic birds
46 Near endemic birds
Migratory species
Pelagic species
Other biodiversity attractions
Cultural attractions
Scenic attractions

Birding HotSpots in the Plett Region

Nature's Valley
Bitou River Wetlands
Keurbooms Estuary
Uplands
Harkervill Forest / Kranshoek picnic and lookout area

Rare Bird Sightings in the Plett Region

African Finfoot
Northern Rockhopper Penguin
White-browed Scrub Robin
Click here for detailed information on birds in the Plettenberg Bay area
African Crowned Eagle Release
An amazing story of combined efforts between people in conservation, to get this maggnificent African Crowned Eagle back where it belongs.
A big thank you to Dr Daryl Hunt from The Crags Veterinary clinic, Dr van Reenen from Marine Way Animal Hospital, Dr Mark Brown from Natures Valley Trust and Mike Bridgeford, Chairman of BirdLife Plettenberg Bay.
BIRDING LINKS
Review of Plett's main birding areas and other pertinent information
Checklist of Plett's different birds
Plett birding events
The Plett Birding Route
Plett's latest bird sightings
To find birder-friendly establishments, visit www.birdlife.org.za
The criteria for registration are as follows:
Catering to the specific needs of birders;
Being Responsible Tourism operators;
Supporting BirdLife South Africa' strategic objective of conserving wild birds and their habitats and
Support Community Bird Guides trained under the auspices of the BirdLife South Africa Guide Tranining Programme.
For more information, visit http://birdlife.org.za/gobirding/birder-friendly-establishments